【Exhibition】Fukushima Biennale 2018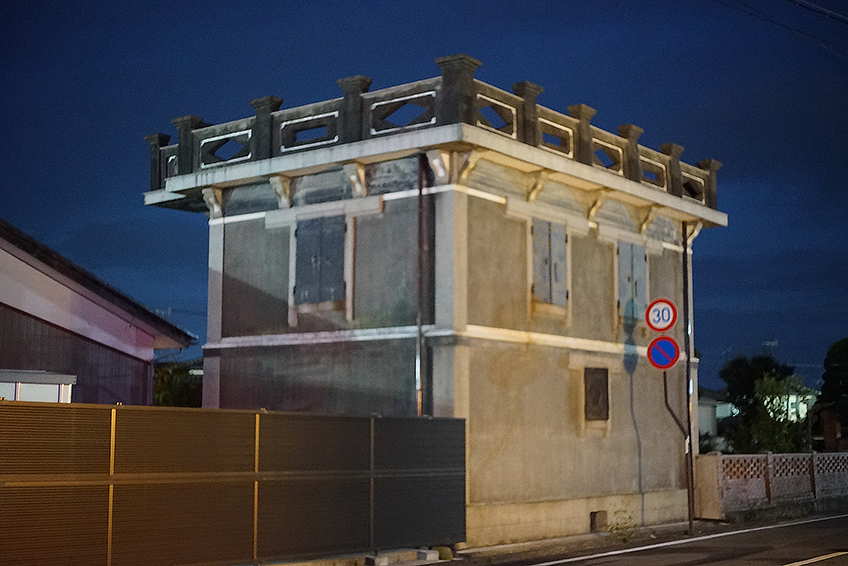 Chiaki Haibara's  exhibition will be started on Saturday and Sunday 10:00-17:00 during 13th~28th October.
The place is "The storehouse of the Takashima family" in Minamisoma City, Fukushima.
When you walk straight for 15 minutes from Odaka Station(JR Joban Line), you can see the unique structure on your left.
This building is a storehouse which was built in the early Showa period(around 1926~1945) with the technology of concrete that rapidly spread after the Great Kanto Earthquake of 1923.
It has interesting various designs such as the decorated Shikkui decoration with black & white and the crests at the staircase landing by the plasterers.
There was another house next to the storehouse, but it was damaged by the tsunami of 2011 and demolished so the storehouse can be seen from 4 directions now. You can compare the scenery in the photo of google earth and my post(or Cultural Heritage Online ). When you go up the terrace, you'll see the view of Odaka's landscape.
In Odaka, there were houses sparsely and Chiaki felt the scenery appeared by various kinds of the stack of resident's decisions after the Tsunami and the nuclear accident. The residents had been living in another place for a while because there was restricted access area.
Then, some people live here (again), some people went away from here, some people live near from here and sometimes they back here to spend a few hours in a day.
There are huge rocks on the nothing lands. These were for the private garden of the landowner. After dismantling the house, rocks are left as it is because disposal costs are high. The rocks lost its function seem to be a proof of absence. "Absence" and "No existence" are totally different. The flow of different kinds of time is living together in this area.
On the 1st floor of the storehouse, She installed a part of her past work because they requested, but on the 2nd floor, there is her new work.
Fukushima Biennial – Wadatsumi Art Festival website (Japnese)
https://wadatsumiartfes.com/
——–
Fukushima Biennale 2018
"The storehouse of the Takashima family"
(the title of my work is hidden a while)
Address: 1 Chome-87 Odakaku Kamimachi Minamisōma-shi, Fukushima-ken
Date: October 13,14,20,21,27,28 (10:00-17:00)
——–
We recommend you will visit by train or car, motorcycles have areas where roads are not permitted.
Thanks.