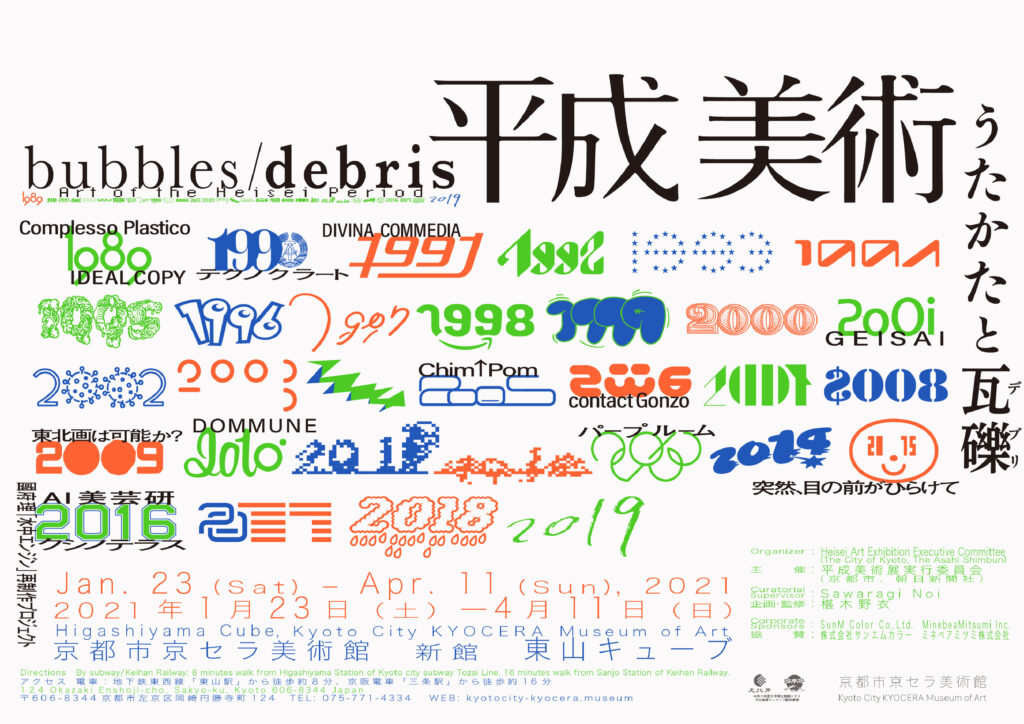 As a member of "Suddenly the view spreads out before us.(2015 ~)", Chiaki Haibara's works are exhibiting at the exhibition "Bubbles / Debris: Art of the Heisei Period 1989–2019" . In the section of our project, focusing on Archival materials from 2014, when is the preparation period for the 2015 project.
---
Kyoto City KYOCERA Museum of Art is delighted to be hosting this exhibition at Higashiyama Cube, looking back on the art of the Heisei period (1989–2019), with a focus on the collective activities of the artists concerned. Planning was overseen by art critic Sawaragi Noi, who has consistently engaged in highly penetrating criticism of contemporary art since the late 1980s.
Taking as its key words "bubbles/debris," it explores based on Sawaragi's point of view how artists responded to the changing times and circumstances of the Heisei period, which was visited by economic stagnation and a series of unprecedented natural disasters.
Today, amid the maelstrom of the dawn of the Reiwa period, a time that can only be described as ominous, let us look back again from here in Kyoto on the art of the Heisei period of just over 30 years. I do not mean by dividing it up according to decades (trends), such as the 1980s or 1990s. Just as the art of the Meiji period represented the dawning in Japan of art itself, the art of the Taisho period represented the cries of self-willed painters and the rise of the avant-garde, and the art of the Showa period exhibited contrasts like light and shadow before and after the war and later followed in the footsteps of democracy and the pacifist constitution by branching into numerous schools, does the art of the Heisei period have an appearance (spirit) representative of the age itself? For the purposes of this exhibition, I have chosen to focus on the accumulation of the "close" collective activities of multiple artists in this period of frequent natural disasters, incidents, accidents, and economic crises. And with the collapse of the bubble economy and the Tohoku earthquake and tsunami (and the Fukushima nuclear accident) in mind, and taking a cue from Kamo no Chomei's Hojoki (The Ten Foot Square Hut) and Isozaki Arata's Deburi no mirai (The Future of Debris), I would like to call it "bubbles/debris." ーーSawaragi Noi

https://kyotocity-kyocera.museum/en/exhibition/20210123-0411
Participating Artists:
Complesso Plastico, IDEAL COPY, TECHNOCRAT, DIVINA COMMEDIA, GEISAI, Chim↑Pom, contact Gonzo, Is Tohoku-ga possible?, DOMMUNE, Parplume, Suddenly, the view spreads out before us., Kushino Terrace, Kokufu Osamu's Engine in the Water re-creation project, Artificial Intelligence Art and Aesthetics Research Group
Period | Jan. 23 (Sat) – Apr. 11 (Sun), 2021
Venue | Higashiyama Cube, Kyoto City KYOCERA Museum of Art
infomation | *The below link will direct you to a third-party site.
Bubbles / Debris: Art of the Heisei Period 1989–2019