FIXER
2014
Installation
The thing which was picked up on Miyake island beach, ​inkjet print, polyurethane, urethane, pure gold leaf, pure silver leaf, paraffin, glutinous rice, acrylic paint, Warabai-Shirahagi glaze, Namikoshi argilla, Kokudei(argilla), plaster, glass, ABS resin(3Dprinting), blonze, ice, oil clay, cork clay, silicon
variable size
Installation view at Gallery NATSUKA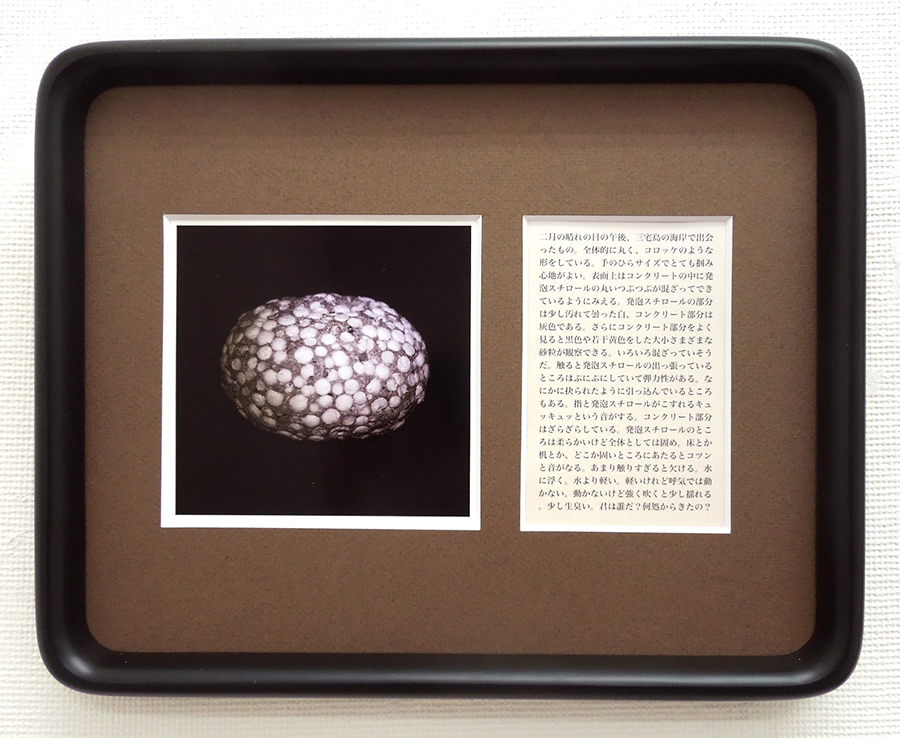 #Who are you?
On the sunny afternoon in February, I met it on the Miyake Island's coast. It has a round oval shape like an egg. It fits right on my palm and is quite comforting to hold in my hand. It has many small spheres made of polystyrenes embedded in a concrete. The polystyrene has slightly tainted white colors while the concrete has light gray colors. Upon the closer look, there are circular black and yellow variously sized particles in the concrete. Variety of different colors and materials seems to be mixed together. I touched on the polystyrene and it is elastic. Some part of it is dented as if it is scrapped off. The polystyrene makes squeaky sounds by rubbing it. The concrete has a rough surface. It is firm overall except the soft polystyrene. It makes a knocking sound upon hitting a table or floor. It chips off when I touch it too much. It floats on water. It is lighter than water. Although it is light, it does not move by blowing on it. It rocks a little by blowing harder. It smells of raw. Who are you? where in the earth are you from?