【Exhibition】levitated spaceー浮遊する空間
מרחב צף مساحة عائمة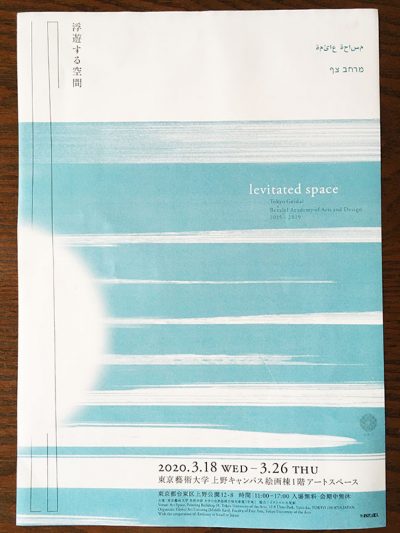 ※It have been cancelled as a precaution taken against the global outbreak of the COVID-19 (Corona virus).
levitated spaceー浮遊する空間
מרחב צף مساحة عائمة
主催:東京藝術大学 美術学部 大学の世界展開力強化事業[中東]
協力:イスラエル大使館
会場:東京藝術大学上野キャンパス絵画棟1階アートスペース
Venue: Art Space, painting Building 1F, Tokyo University of the Arts,
12-8 Ueno park, Taito-ku, TOKYO 110-8714 Japan
Organizer: Global Art Crossing [Middle East], Faculty of Fine Arts, Tokyo University of the Arts
With the Cooperation of: Embassy of Israel in Japan
<以下主催より>
これまで東京藝術大学美術学部 大学の世界展開力事業 Global Art Crossing[中東]では、中東地域の提携校であるイスラエル・ベツァルエル美術デザインアカデミー、トルコ・アナドール大学、ミマールシナン美術大学との交流強化事業を行ってきました。
本プログラムには4校の多くの教職員や学生が参加し、開催されたワークショップや授業は、異なる背景を持つ者同士が「つくる」という共通の行為を通じて交差する現場となりました。そしてそこは、ある種の中立的で浮遊感のある特別な現場」「levitated space」とも呼称できる場に見えました。
参加者は社会的、歴史的hな様々な問題や課題を互いに補うように思想を交え、ポジティブにその浮いた空間を成立させてきたように思えます。
本展覧会は、これまでのプロジェクトで行われたイスラエル・ベツァルエル美術デザインアカデミーと東京藝術大学の間で行われた約5年の交流の紹介を目的とし、イスラエルへもしくは日本へ来たことがある両校の教員や学生を中心に今後の展開を見据えたメンバーを加えて構成されています。
それぞれに少なからず影響を与えた過去のワークショップを振り返りながら、今後の両国の関係を展望する展覧会となることを願います。
Global Art Crossing[Middle East] of Tokyo University of Arts is an exchange program which was implemented between 2015 and 2019 with our partner universities in the Middle East as the Inter-University Exchange Project aimed at the enhancement of the university's globalization capacity. The participated universities are Bezalel Academy of Art and Design in Israel, and Anadolu University and Mimar Sinan Fine Arts University in Turkey. And many faculty members and students from the four schools participated in this program, the workshops and classes became the place where people with different backgrounds intersected through the act of "creation", which is common among them regardless of cultural differences. This place also seems to have become a kind of neutral, floating and special space that we can call as a "levitated space". The participants seemed to have positively established this space by exchanging ideas and thoughts to complement various social and historical issues.
The purpose of this exhibition is to introduce the contents of the exchange program between the Bezalel Academy of Arts and Design and the Tokyo University of the Arts, Thus, this is composed of artworks created by the faculty members and students who visited each other's universities and some new members who will develop future programs. We hope that this exhibition will prospect the future exchanges between the two universities, while looking back on the past workshops that influenced each other.